Company Profile
---
My business is Tim the key man Inc. My name is Tim!! I have been in the locksmith business for 26 years, branching out on my own 17 years ago in Cambridge. I am a mobile service which services this city and surrounding areas.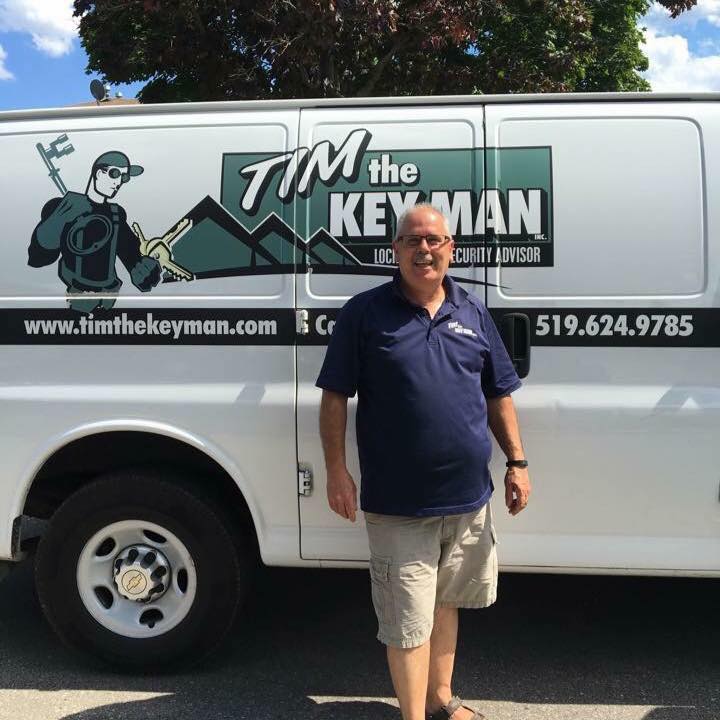 So you are wondering what does a Locksmith do? When you get locked out of your house or business I come out and pick your lock to let you back in! I also change your locks so your old keys don't work any more, and give you new ones.
I make sure you have good locks (dead bolts) on your place for security. I also have high security locks so the key can NOT be duplicated. I also do filing cabinets, panic bars, dead bolts, new locks, levers and push button locks. I sell and install new steel fire rated doors, door closers, master key system, electric strikes, safes, industrial locks, key cutting and padlocks all under one key.
When should I call a Locksmith? The loss of keys (can you account the whereabouts of all your keys?) When you have a contractor in your home or move to a new home always have your locks rekeyed ( VERY IMPORTANT). Always make sure your key works all your locks before going on holiday and if someone is watching the house make sure your locks are under one key and all locks work properly. It's also important to rekey a home where there has been a death of an elderly parent because you don't know who has a key to the home.
Make sure your locks are fire rated so you are able to get out in a hurry in case of fire. Also if you own a company and you fire an employee it's very important to have your locks rekeyed. Your kids have lost there house key! And you have given them now 3 key's and you don't know what to do? Well let me help you, I have a pushbutton dead bolt lock so they will never need another key! A push button lock is very secure, you can change the combination as many times as you want, it only takes a couple of minutes.
It lights up at night and you will love it! It also has a key override. I offer 24 hour emergency service. Security checks and consultations free of charge. If you need a Locksmith call 519-716- LOCK (5625) or 519-624-9785. Thank you for reading about my business. I'm Tim the key man and I Am All Keyed Up!